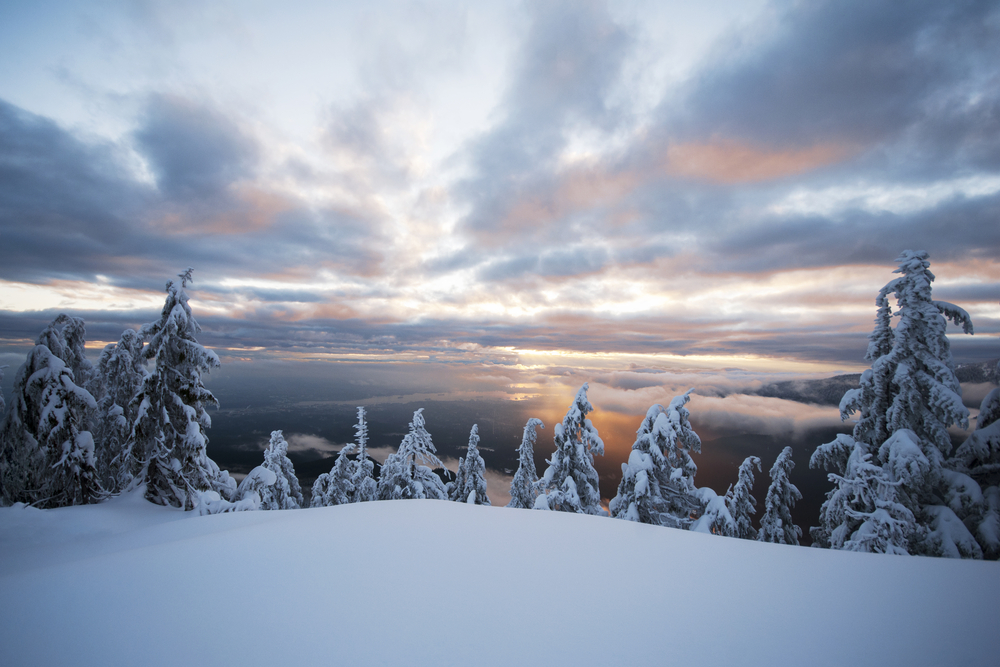 Discover the best snowshoe trails near Vancouver
Canada is popular all around the world for its stunning winters. Most parts of the country are wrapped in pure white snow. An ideal location for lovers of winter and snow, it is a truly majestic country. Visiting this country is a great idea for planning snow relating activities like hikes, skiing, snowboarding, snowshoe trails and more.
If you are travelling to Canada for a snowshoe trail experience, then you can plan your stay in Vancouver. Though it doesn't snow in this city, but it is close to one of the best snowshoe trail locations in British Columbia.
When you are in Vancouver for the adventures of snowshoeing, you must book a luxurious and comfortable stay at L'Hermitage, one of the best boutique hotels in the city. Offering great facilities and amenities, this hotel is ideally located close to public transport links that helps you reach snowshoeing destinations quickly. It is also close to great shopping areas where you can shop your snowshoeing gear, popular attractions that you can explore when you are not hiking and many must-try eating joints.
Here's a list of mountains around Vancouver offering some of the best snowshoeing routes. The most ideal time to explore these routes are the winter months from December to April. All the trail routes are free; however you might have to pay for some snowshoe trails here. The places you need to visit are:
1. Dog Mountain:
One of the most popular snowshoe trails near Vancouver, this route is about 5-km roundtrip. Easy to do for many, it starts at Mount Seymour, is well marked and ends with a breath-taking view of downtown Vancouver. If this is too short for you, you can make it longer and more exciting by taking a detour to the Dinky Peak.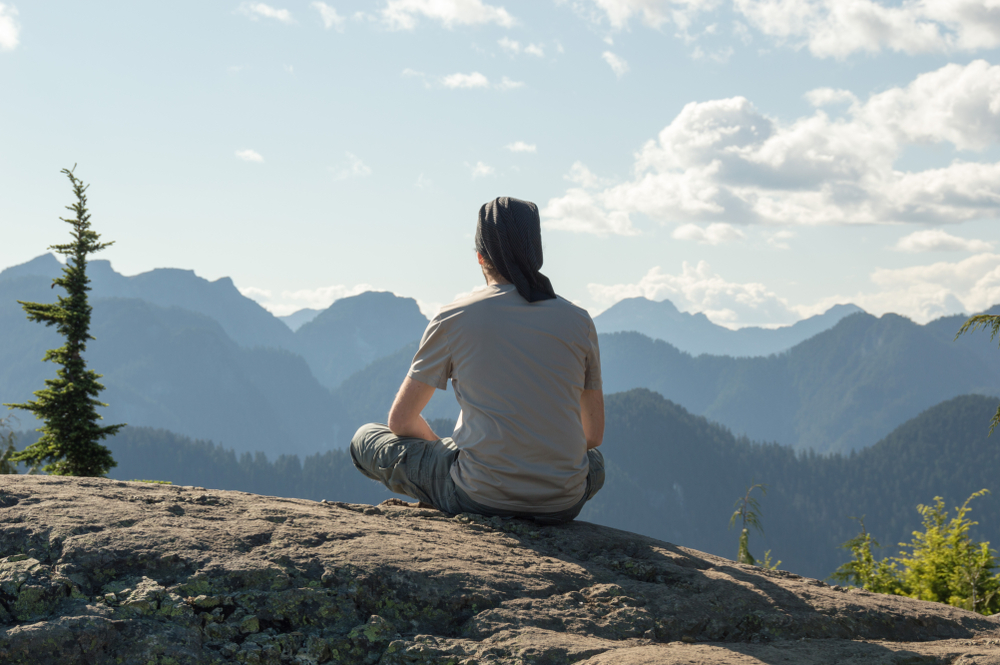 2. Hollyburn Mountain:
Nothing beats the beauty of a winter sunset and if this is what you are looking for then you must go for a snowshoe trip to Hollyburn Mountain. This trail is the most popular one in the Cypress Provincial Park. A real adventure, get ready to face some steep hills, forested routes and steep sections that can get really challenging and will add to the fun. It's totally worth-it to reach the top for some incredible views of Canada. This trail is about 7-km roundtrip.

3. Snowshoe Grind:
This popular snowshoe trail of the Grouse Mountain is a unique one as it begins from the top and goes to the Dam Mountain. It's about 5-km roundtrip depending on the snow conditions.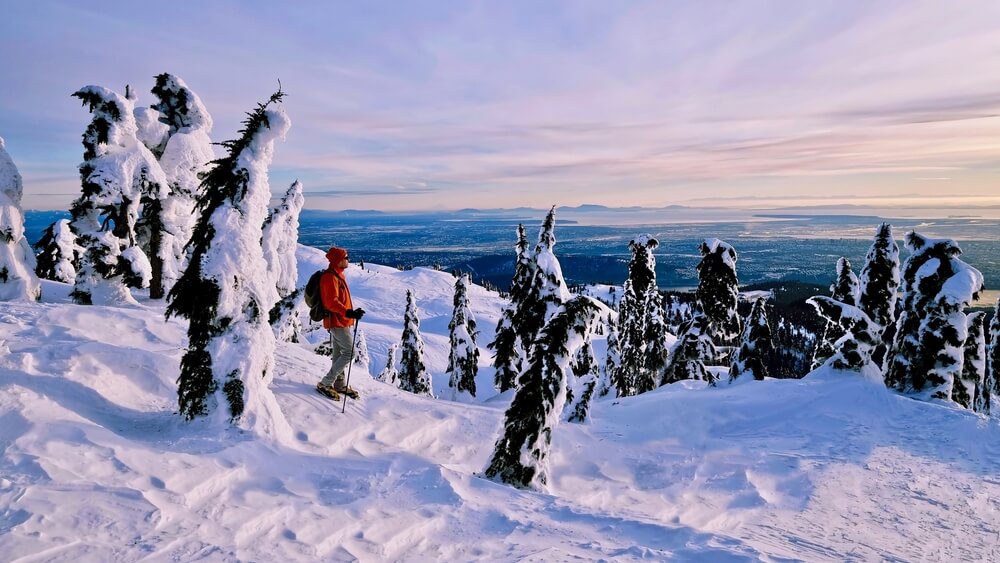 4. Elfin Lakes:
This is the most challenging snowshoe trail as it is a 22km roundtrip. On this trail you can indulge in winter camping, but it can only accommodate a limited few, so you must book for it beforehand. You will be walking through beautiful landscapes and sceneries, and the Elfin Lakes will be your final destination on this trail.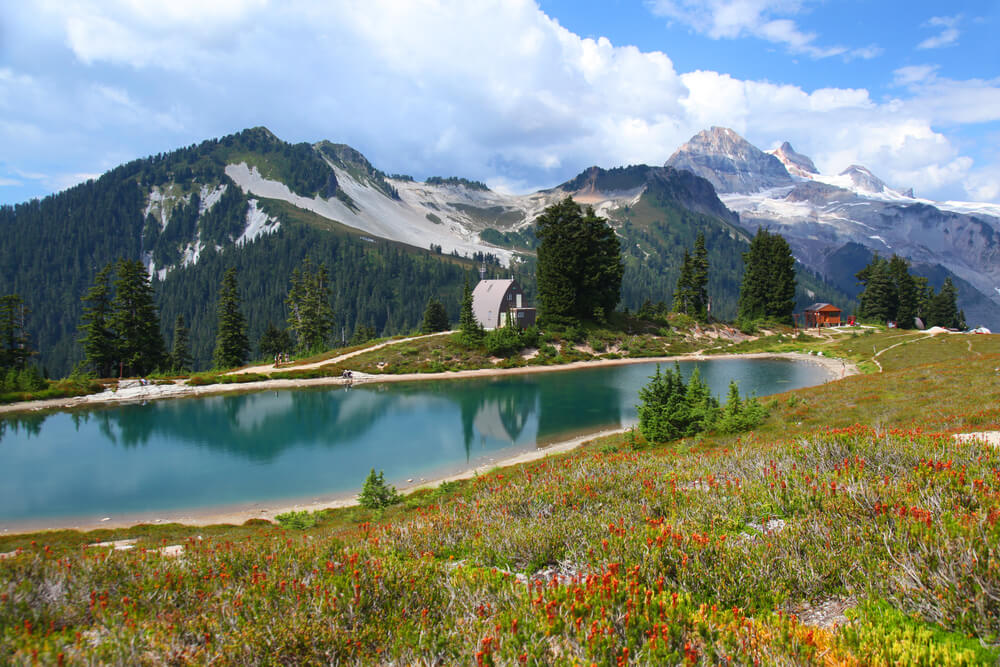 5. Zoa Peak:
This trail is most probably the most scenic and Instagram-able of all. This is a challenging one and should be done by experienced people who do snowshoe trails regularly. It is about 11-km roundtrip. On this trail you can see some amazing sceneries such as the Nak & Yak Peaks, Jim Kelley Peak, Coquihalla Mountain, Falls lakes and more.
Once you have completed your adventures on the above trails, you will enjoy coming back to relax and rest in the comfortable and cosy downtown hotel of Vancouver – L'Hermitage.
FAQs 
Where can you hike in Vancouver?
Mount Seymour
Eagle Bluffs
Dog Mountain
Baden Powell
The Lions
How long is dog mountain hike?
Dog mountain hike is one of the most beautiful hikes in Vancouver. About halfway up the mountain you break out of the forest and if you are lucky enough & take the hike in the late spring you will see yourself in mountain side of fields of yellow wild flowers. This hike is 6.5 mls, hike time would be 6 hrs including lunch.