The Significance of Celebrating Remembrance Day in Canada
Planning your Vancouver vacation soon? Well, you've made a great choice! A perfect destination for people of all ages and interests (especially adventure-seekers). If you are planning a trip to Downtown Vancouver in the month of November, get ready to experience the remarkable display of celebrating Remembrance Day with the largest ceremonies and parades in the city. With awe-inspiring ceremonies taking place at the Victory Square Cenotaph in downtown Vancouver on 11th November and across the Lower Mainland as well, reserve your stay at one of the luxury boutique hotels in Vancouver, for an impeccable staycation experience.
Remembrance Day Ceremonies in Vancouver
Get a closer look at Vancouver's rich history and culture as you play a part in the Victoria Square event, the most impressive one to look out for!
Victoria Square's Remembrance Day ceremony will take place at the Cenotaph between Cambie Street and Hamilton. Attracting thousands of people from all walks of life, the ceremony begins with a heart-warming musical performance, followed by the singing of O Canada and the mesmerizing pipe band performances, making this an outstanding event!  Witness a bulge playing the 'Last Post', followed by the traditional two minutes of silence at around 11.00 a.m.
A 21-gun salute by the 15th Field Artillery Regiment at Portside Park, moments away from Vancouver boutique hotels is another special ceremony feature to look out for. The ceremony will last for about 90 minutes, from start to finish, so plan accordingly.
About the Vancouver Parade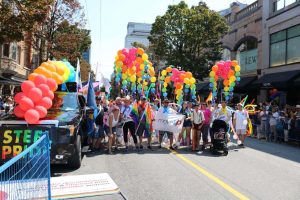 Immediately after the ceremonies conclude, drums and bagpipes back up and the units of military personnel, veterans and 1000 uniformed cadets march in formation, from Victoria Square across a few blocks of Vancouver's downtown streets. Immerse yourself as you watch this sombre parade, in honour of the people serving the country's past and present.
Concerts and Events
In addition to the ceremonies and parades, several exciting choir concerts also take place on the weekend of Remembrance Day. Here are a few events you must look out for:
Catch Chor Lenoi perform at the iconic St. Andrew's Wesley United Church on the 10th and 11th of November 2023.
With your stay at one of the luxury hotels in Vancouver, right in the heart of the city's business and shopping district, the Vancouver Welsh Men's Choir will be right at your doorstep. So, make sure to include a visit to the South Delta Baptist Church on November 11th.
Assuming clear skies, the military flyover can be seen especially highlighted from Vancouver's downtown Cenotaph during most years.
Note: If you're looking to get a good view of both the parade and the ceremony, arrive early and get yourself a spot close to the Cenotaph, at the beginning itself.
Timings
The ceremonies will commence at 9.45 am until 11.30 am, after which the parade begins. This is a once-in-a-lifetime kind of opportunity to witness the solidarity and respect of people towards their veterans, reflecting sacrifice and respect in the service of the country's past and present, so, be there on time!
If you're looking to add to a well-spent day with some more great experiences around, head to Vancouver Convention Center's Circle Craft market, for an impressive early-season Christmas shopping scene.
So, make sure to dress up in warm attire, keep a compact umbrella handy with you (some hot drinks to go will also be a great idea) and witness some spectacular events!