Inside The Science World in Vancouver: A Journey Through Knowledge and Wonder
If you've ever strolled along the scenic shores of Vancouver's False Creek, you've probably spotted a colossal golf ball-like structure nestled beside the water. This iconic dome houses none other than the captivating Science World at TELUS World of Science. More than just an architectural marvel, this interactive science center has been a source of wonder and education for both locals and tourists for decades. If you are visiting Vancouver, the Science World is a must see, and to explore it all, book your stay at the conveniently located L'Hermitage hotel in Downtown Vancouver.
The History Behind the Geodesic Dome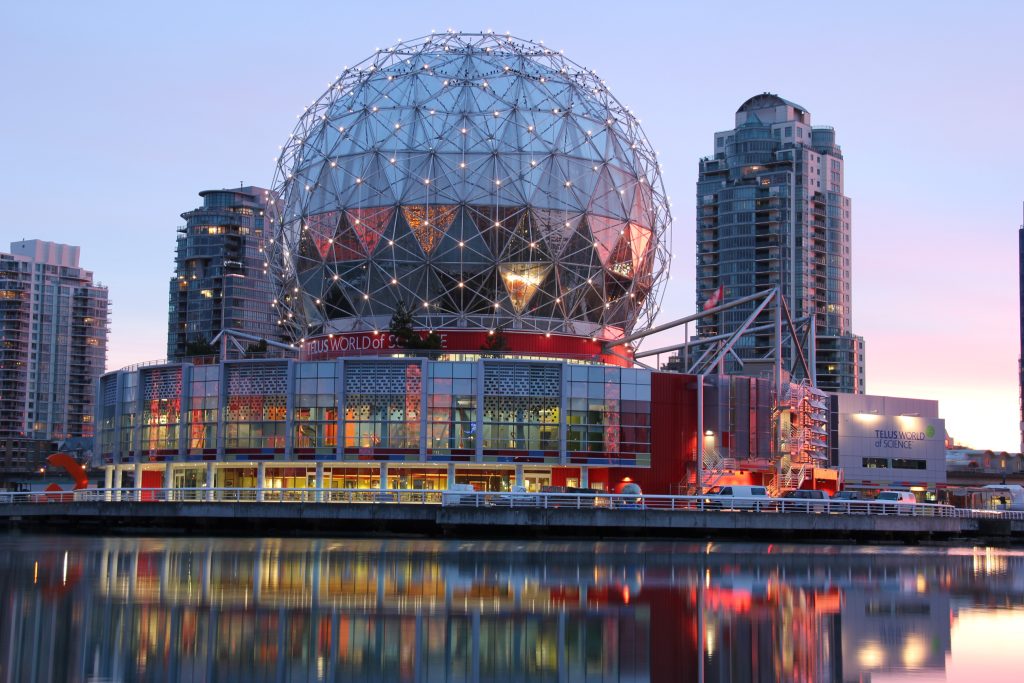 The first thing that strikes visitors about Science World is its remarkable building – a geodesic dome designed by renowned architect Bruno Freschi. Its unique appearance has garnered it nicknames like "The Golf Ball" or "The Giant Snowball." But the story behind this dome is as fascinating as its design.
The dome was initially constructed for Expo 86, Vancouver's World's Fair. After Expo 86, the province of British Columbia decided to repurpose it as a science center. Science World opened its doors on May 6, 1989, and has since become a beloved institution for science education and exploration.
Galleries That Ignite Curiosity
One of the main attractions inside Science World is its array of engaging galleries. These galleries are designed to spark curiosity and encourage hands-on learning for visitors of all ages. While you are staying at the luxurious L'Hermitage hotel, you can easily explore some of the most fascinating galleries in the center.
Eureka! Gallery: This gallery is a testament to the saying "Learning can be fun." It's filled with interactive displays and experiments that explore various scientific concepts. From building structures to experimenting with water, there's no shortage of things to explore here.
Ken Spencer Science Park: If you want to take your learning outdoors, the Ken Spencer Science Park is the place to be. It's an open-air gallery featuring various interactive exhibits that demonstrate natural phenomena, making it perfect for kids and adults alike.
OMNIMAX Theatre: Prepare to be awed at the OMNIMAX Theatre. With its massive screen and powerful sound system, it's an immersive experience like no other. The theater showcases educational and visually stunning films that transport you to different worlds.
BodyWorks: Delve into the wonders of the human body at the BodyWorks gallery. Here, you can explore hands-on exhibits, interactive displays, and even test your reflexes.
Peter Brown Family Centre Stage: Science isn't just about facts and figures; it's also about engaging with the world around us. The Centre Stage hosts live science demonstrations and shows, ensuring that learning at Science World is never dull.
After exploring all the amusing galleries you can have a meal at one of the many popular restaurants near Vancouver Art Gallery.
Enchanting Location
Science World's prime location is yet another reason it's a must-visit. Situated in the heart of Vancouver, it offers breathtaking views of the city's skyline and is easily accessible by public transit. Whether you're a local or a tourist, the Science World dome is a sight you won't want to miss.
Before embarking on your science-filled adventure, here are some helpful tips:
Check the Schedule: Science World hosts a variety of live shows and demonstrations throughout the day. Be sure to check the schedule so you don't miss out on any exciting presentations.
Plan for Exploration: The galleries are brimming with interactive exhibits. Plan to spend a few hours exploring them all, and don't forget to bring your curiosity.
Family-Friendly: Science World is a fantastic destination for families. There are plenty of activities and exhibits suitable for children, making it an educational outing for all ages.
OMNIMAX Films: If you plan to watch an OMNIMAX film, consider arriving a bit earlier to secure a good seat, especially during peak hours.
Special Events: Keep an eye out for special events and exhibitions that Science World hosts throughout the year. They often provide a unique perspective on various scientific topics.
Science World is not just a place for science enthusiasts; it's an institution that fosters a love for learning and curiosity. It's a hub where people of all ages can explore, ask questions, and uncover the wonders of the natural world. Here are a few reasons why Science World is a must-visit:
Interactive Learning: Science World's hands-on approach to science education ensures that visitors actively engage with the material. It's a place where learning is fun and memorable.
Inspiration: For budding scientists, Science World can be a source of inspiration. It showcases the beauty of science and the incredible discoveries that shape our world.
Family-Friendly: It's a destination that the whole family can enjoy. Parents can watch their children's faces light up with excitement as they make new discoveries.
Iconic Architecture: The geodesic dome that houses Science World is an architectural masterpiece in its own right. It's become an iconic symbol of Vancouver.
Stunning Location: The dome sits on the picturesque shores of False Creek, offering visitors stunning views of Vancouver's skyline and surrounding beauty.
Whether you're a local resident or a visitor exploring the city, a trip to Science World promises an educational and unforgettable experience that will leave you inspired and in awe of the wonders of the natural world. After you are done exploring everything the Science World has to offer, you can relax and rejuvenate in luxury hotels with pools in Vancouver.