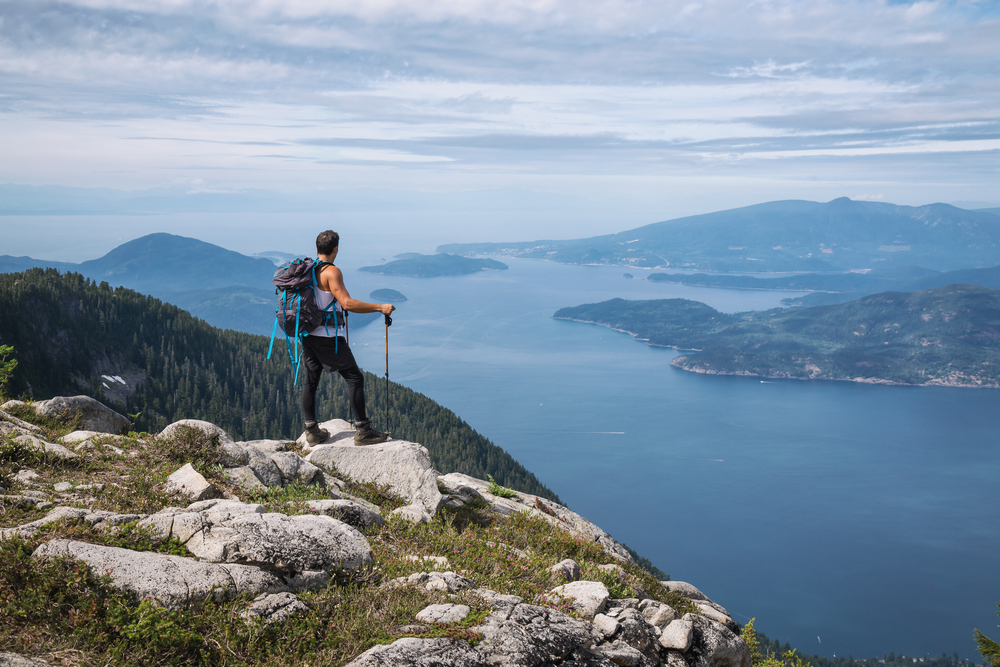 12 Hikes To Enjoy In Vancouver This Summer
Vancouver is well known for its diversity of landscape. From the glittering skyscrapers of downtown to the vibrant forests of Stanley Park, one of the main draws for booking Vancouver boutique hotels is just how much there is to see. Pair that with the mild weather and you have a city that's primed for walking.
During the spring months, Vancouver sees average temperatures of 13 to 17 C, whilst the summer lingers between the early 20s. The city is neither too hot nor too cold, providing ample opportunity to get outdoors. So if you fancy a long walk or a short one, or simply want to see some of the wider Vancouver area, there are plenty of hiking trails and walks to give you a taste of the great British Columbian wilderness, all just a short drive from downtown.
It's worth remembering though that many of these unmissable hiking trails are located in the great Vancouver area, so prepare for a full day's hike or even an overnight stay!
Stanley Park

Let's start with the obvious. Stanley Park is just a short walk from Vancouver accommodation downtown and is a 1000 acre stretch of forest that's been left to grow on its own accord. Though still technically a "park" it has not been landscaped, but does contain man made structures within it. Larger than Central Park, the most popular walking route around Stanley Park is the famous Sea Wall, which runs around the circumference of the enclosure and offers brilliant views over the Burrard Inlet.Landmarks within the park include totem poles created in memory of its indigenous past, a beach and an aquarium, all of which make great waypoints for walks. Stanley Park's long history, brilliant views and true Vancouverite character make it the perfect walking spot for those who don't want to venture too far out of the city.

Lynn Headwaters

This dense rainforest is home to springs, lakes and waterfalls and is easy to reach from Downtown in just half an hour. With more than 9000 acres of hiking trails to enjoy, Lynn Headwaters is probably the closest regional park to the city of Vancouver and is home to the scenic Lynn Canyon Suspension Bridge.

Lynn Loop

The Lynn Loop is the go-to trail for this North Vancouver park, and offers up an easy 1.5 to 2 hour hike that takes you over the beautiful Lynn Creek river. You'll be walking through dense cedar trills and age old logging equipment, making for a true step back in time.

Lynn Lake

Lynn Lake is one of the best examples of long distance hiking trails in the Provincial park. Though there are other lake-based hiking trails to be found in Lynn Headwaters, this 22 kilometer deviation from the above mentioned Lynn Loop provides incredible views of Norvan Falls and creek, but should only be accessed during the warmer months, when lake levels are lower.

Deep Cove Trails

Another North Vancouver trail network, Deep Cove is actually the name of the small town and bay that looks out over the Indian Arm inlet. These walks are for those who want something a little more coastal, or alternatively, more mountainous routes as the town is at the base of the popular Mount Seymour. What's more, it's only a 20 minute drive from downtown Vancouver.

Quarry Rock

Quarry Rock is the easiest route leading off from Deep Cove, and should only take about two hours to complete. The beautiful Cove Woods offers atmospheric views over ancient trees, whilst the lookout point at the titular Quarry Rock is a perfect midway point before heading back along one of the other trails to the town.

Cypress Provincial Park

With a history of logging and skiing, Cypress Provincial Park is another North Shore gem that promises beautiful views over forest and mountain. Located to the west of the city, there are several great walking trails that, again, are best tackled in the summer months or when it's less snowy. With beautiful views over Bowen and Gambier Islands, the park faces the Howe Sound inlet.

St Mark's Summit

This is a brilliant 11 kilometer walk that offers up stunning landscapes and views over Howe Sound. Following dried up ski runs, rocky sections will make this a relatively tricky hike that eventually takes you to the summit, also part of the Howe Sound Crest Trail. Overall, the hike should take between 4 and 5 hours, depending on the weather conditions.

Eagle Bluffs

Taking hikers across Cypress Mountain, Eagle Bluffs trail follows the famed Baden Powell hiking route and should take around 3 to 4 hours to complete. At the end of it, walkers will be rewarded with the tranquil Cabin Lake to the west of the mountain. If the weather calls for it, you can even cool off in the lake, undoubtedly well earned after such a hilly trail.

Seymour Provincial Park

Named after British colonist Frederick Seymour, this beautiful Provincial Park is situated in the North Shore Mountains and just 15 kilometers from Downtown Vancouver. Overlooking the Indian Arm, the walks here include tremendous forests, mountains and even waterfalls such as Silver Falls, with several notable mountains here, the largest is Mount Bishop, which reaches a peak of 1509 meters.

Dog Mountain

Starting from the Mount Seymour Ski Resort, this walk is only about 2 hours in length but promises brilliant views over the city below. Make sure to catch the crystal clear Mystery Lake if you don't mind a small detour on your way back from the peak. Other landmarks include the aptly named Goldie Lake and Flower Lake.

Mount Seymour

9 kilometers in total, Mount Seymour Trail actually takes you across 3 different mountain peaks, the titular Mount Seymour, Dinke Peak and Pump Peak. Of course this means that you'll be gaining and losing elevation quite a lot during the walk, which will take a little bit of stamina. Nevertheless, the views are again well worth it and it should theoretically take about 5 hours.